ATA 2012 Convention preparations kicked off in Atlanta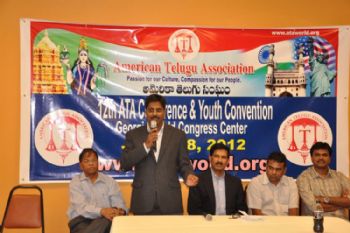 July 23, 2011, Atlanta, Georgia: The preparations for the 12th American Telugu Association (ATA) Convention to be held July 6th-8th 2012 in Atlanta were kicked off with a meeting on July 23, 2011. More than two hundred prominent community leaders and very enthusiastic supporters of ATA have attended the meeting, setting a positive tone for what is expected to be one of the largest conventions celebrating the Telugu culture and heritage.

The ATA2012 Conference Convener Mr. Karunakar Asireddy presided the meeting. The event started with a prayer by Mr. Satya Karnati, following which the current President of ATA, Dr. Rajendar Jinna, Dr. Jaganmohan Rao (ATA 2012 Coordinator), Mr. Prasheel Gukanti (Georgia Coordinator) and Mr. Sai Gorrrepati (Atlanta Coordinator) addressed the audience.

'The ATA board and the executive committee have tremendous faith in the Telugu Community of Atlanta and the leadership that Atlanta has shown in hosting several large scale events. We look forward to a great 2012 convention' said Dr. Jinna.

Dr. Jaganmohan Rao, the ATA 2012 Conference Coordinator stated that the sole intent of the conference is to promote Telugu culture, and that caste, religion, and regional backgrounds have no relevance as for who can take part and serve.

At the meeting volunteer registration forms were circulated and attendees were asked to provide their preferred areas to serve from a wide choice of about 30 subcommittees which included various functional domains such as Registration Assistance, Food Committee, Fund Raising, Cultural, and Literary Events. Mr. Asireddy, once again expressed his gratitude on behalf of ATA to the Atlanta Community for their enthusiastic support and told the audiences that the Convention Committee will finalize the subcommittee roles and responsibilities within two weeks and notify the volunteers so that more detailed planning and execution can ensue in earnest.

Present at the meeting were the representatives from Telugu Association of North America (TANA), North America Telugu Society (NATS), Telugu Association of Metro Atlanta (TAMA), and Greater Atlanta Telugu Association (GATA). The event concluded with a Vote of Thanks by Sai Gorrepati, ATA Atlanta coordinator.

Please visit the following link for more pictures of the event: http://www.vakiti.com/Other/ATA-ConferenceYouth-convention/18194397_2LfG34#1398105046_NCDLnnr




News Posted: 25 July, 2011

Be first to comment on this News / Article!




---