Prakasam Police plans crackdown on cyber crime: SP

Ongole, December 24: Analysing trends in crime, the Praksam district Superintendent of Police Ch. Srikanth on Tuesday said that 470 persons died and 800 persons were injured in the road accidents during the 2014 in the district.

Stating that he has taken steps to reduce road accidents in the district., he directed his staff to take necessary steps to reduce road accidents in each police station limits.

He said that drunken driving led to increase of road accidents on the national highways and in the Ongole city and added that 310 persons killed in the road accidents on the NHs.

Expressing concern over the increasing number of road accidents in the district, Mr. Srikanth said that he had set a target to his colleagues of reducing deaths in accidents by at least one for each police station.

He said that they are using breath analysers to check drunken driving. He said that there is need to setup traffic signals in the city.

The Police have planned an action plan to tackle cyber crime, as criminals have been taking the online route to cheat unsuspecting people.

Special training would be imparted to CLUES/Cyber Team members to make them thorough with Facebook, Whatsapp and other latest Internet-based applications to nail down tech-savvy criminals.

The SP said that he would take steps to reduce crime rate and added that comparing to 2013, this year theft cases reduced to 563 from 694.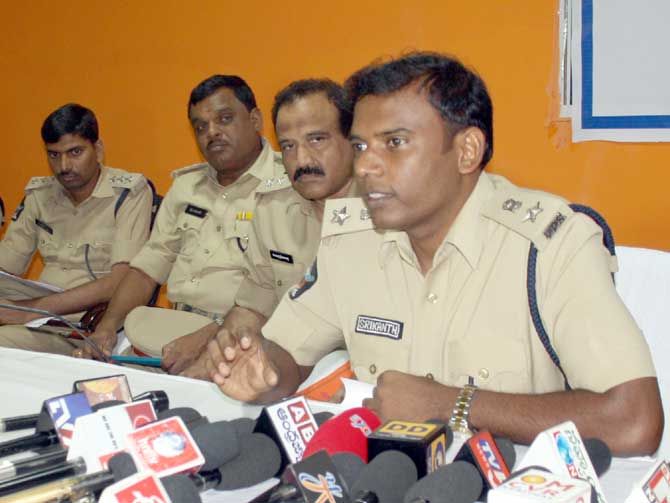 Similarly, night housebreaking cases fell to 179 from 197 and Kidnap cases has come down to 47 from 65 cases during 2013.

While 75 murder cases were registered in 2013 during the corresponding period this year 68 murder cases registered, he added.

Stating that investors in the district had lost an amount of Rs.36 crore in 194 cheating cases in last year, he suggested the people not to invest their hard earned money in bogus finance companies for higher rate of interest.

He said that Prakasam police will launch a campaign in the new year to create awareness among the public about the firms which promised very high returns'.

Rape cases increased to 46 from 39 during the last year. The SP said that the police had stepped up night vigil to reduce night housebreaking cases.

Similarly, 255 cases were booked during this year for outraging modesty of woman and eight dowry death cases were reported in the district.

He urged the people to register their complaints in the police FB page those who do not come to police station and urged them to avail the facility provided by the police.

The SP said that successful handling of law and order during the Samaikyandhra stir was a major achievement during 2014, Inspite of some problems, they have successfully conducted Loksabha and State Assembly elections.




News Posted: 24 December, 2014

Be first to comment on this News / Article!




---