Eminent Award to NRI Prof. Samba Reddy

Houston, Texas: NRI from Warangal district in Telangana, Dr. Samba Reddy has been bestowed with a prestigious international award -- Fellow of the American Epilepsy Society (FAES) ' a lifetime professional honor in recognition of his accomplishments and dedication to excellence in epilepsy throughout the globe.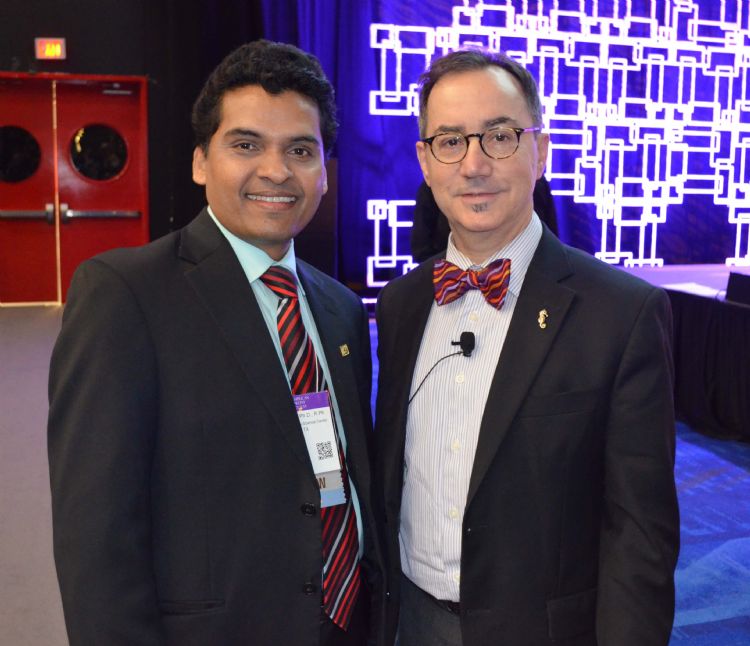 Epilepsy is a chronic brain disease in nearly 65 million people worldwide, including 3 million Americans and 7 million Indians. People with epilepsy experience devastating seizures, or debilitating side effects from medications ' both strikingly affects their quality of life and job prospects. Dr. Reddy's persistent scientific research for the past 20 years is translational and saving many lives ( http://medicine.tamhsc.edu/next/faculty/samba-reddy.html)

He was inducted with honors into the FAES class on December 3,2016 at the AES Annual Meeting in Houston, Texas, which was the largest meeting on epilepsy in the world attended by more than 5000 delegates and neurologists from across the globe. The FAES credential is peer recognition that demonstrates professional accomplishment and dedication in epilepsy.

"Your commitment to the epilepsy community and the American Epilepsy Society are commendable. Thanks to your efforts and leadership, we collectively are able to advance the science and care for people with epilepsy" said Dr. Michael D. Privitera, MD, President, American Epilepsy Society.

Dr. Reddy is the first Indian to win a record "hat trick" top biomedical awards in USA (three major fellowships in consecutive years: 2014 AAPS, 2015 AAAS, 2016 AES). He is a distinguished pharmacologist, who has been serving on many scientific panels in Washington, DC ( http://www.kbtx.com/content/news/AM-Professor-receives-grant-to-study-epilepsy-in-soldiers-397956401.html).

Dr. Reddy is a Professor (Medicine) at Texas A&M University. This 'Hind Rattan' laureate was elected fellow of the American Association of Pharmaceutical Scientists (AAPS) and the American Association for the Advancement of Science (AAAS). He has published 160 scientific papers, which are available online (http://orcid.org/0000-0003-2735-9550).

Dr. Reddy got his Pharmacy degree at Kakatiya University in Warangal (1992) and PhD degree at Punjab University in Chandigarh (1988). He became an eminent scientist with brilliant and consistent efforts (nominated for 'Padma Shri' from Telangana). India has already registered his name in the scientific history.






News Posted: 8 December, 2016

Be first to comment on this News / Article!




---