Sri Reshmi completes Kuchipudi Rangapravesam

Sri Reshmi Ogoti, a 17 year old resident of Edison, NJ and a disciple of Guru Swathi Atluri (Gundapuneedi) spellbound audience at her Kuchipudi Rangapravesam (Indian Classical Dance Graduation) at Ridge Performing Arts Center in Basking Ridge, NJ. She recently graduated from John P.Stevens High School and will be attending Rutgers Business School, NJ in this fall.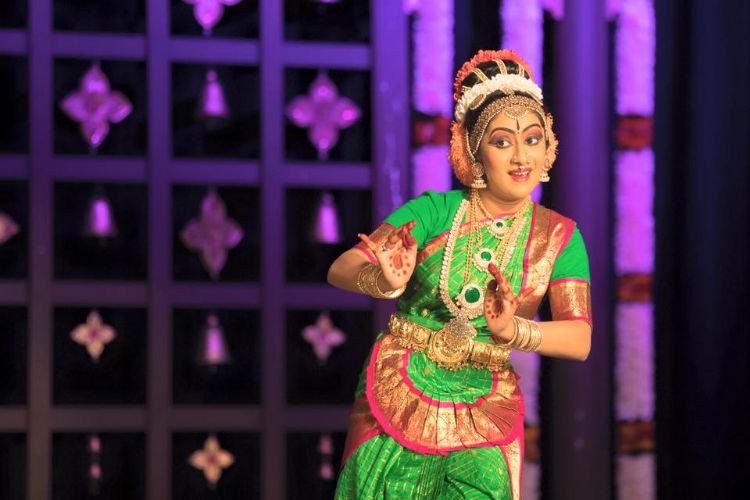 Sri Reshmi brought a distinct style of her own to the intricate yet pleasing dances with grace, confidence, poise and energy. She took the captivated audience (about 400 in strength) into journey of storytelling leaving everyone invigorated.





Sri Reshmi set a graceful beginning to the dance recital with a prayer to the gods with propitiation to Lord Ganesha to remove all obstacles and for the success of the show. The recital comprised of 7 dances which involved changing of 7 different attractive costumes.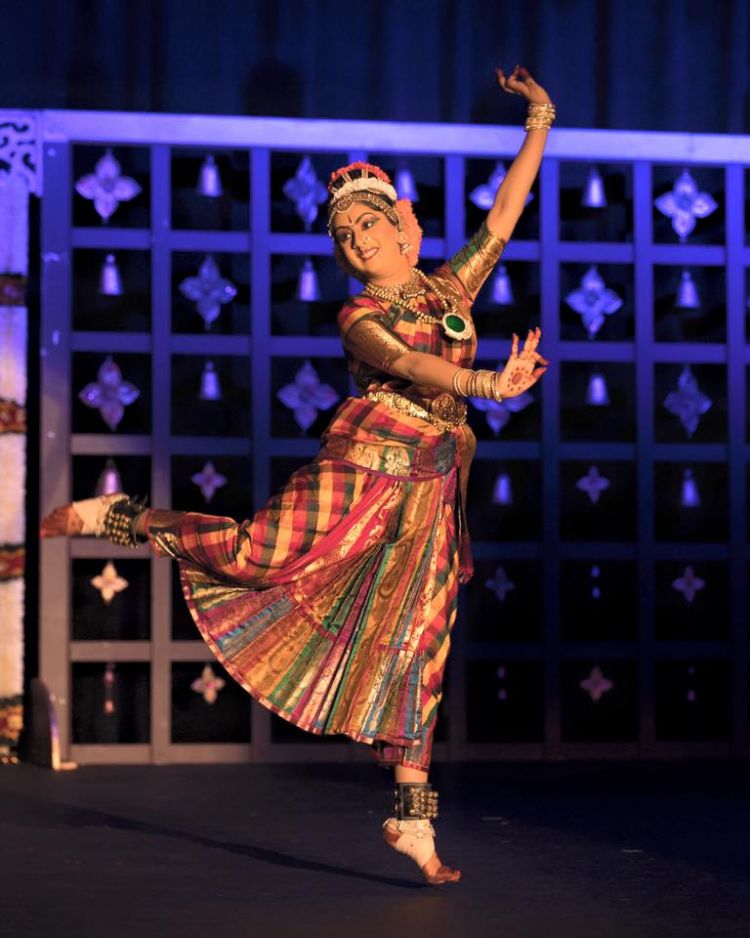 The highlight item of the afternoon were'Shiva Shiva Bhava',which was about 30 mins long. It was a powerful and mesmerizing dance number praising Lord Shiva. Sri Reshmi's performance explained Lord Shiva's various forms and his embodiment of truth, conscience and bliss. She ended this item with intricate rhythmic patterns of movements standing on the edge of a brass plate, which is the hallmark of kuchipudi dance tradition and drew high praise from the audience.

Sri Reshmi depicted Lord Krishna wearing gem-studded anklets around the feet in 'Mani Noopura Dharee'. In 'Ra Ra Na Sami', sheled the audience towards bhava (the experience) of the rasa (sentiment). Her abhinayas (means of expression) were a bliss to watch. 'Srungaralahari' was a unique dance item of kuchipudi dance style. She showed her agility and expressions simply beautiful.'Thillana' is characterized by pure dance (nritta) patterns set according to the dance syllables.

Sri Reshmi's performance was remarkable for its subtlety and interpretation. She was impressive through expressions and subtle body language and received a standing ovation.

Guru Swathi Atluri is the founder and artistic director of Siddhendra Kuchipudi Art Academy (SKAA). She has been teaching Kuchipudi for the last 20 years and is dedicated to readying a new generation of dancers who will continue practicing and spreading this art all over the world in its purest forms

The 4-hour long Kuchipudi extravaganza was ably supported and accompanied by a live orchestra which comprised of leading singers and musicians from India led by a vocal singer Swetha Prasad who has been a recipient of several prestigious awards in India.

Sri Reshmi has been learning Kuchipudi since the age of 10 from Guru Smt. SwathiAtluri (Gundapuneedi) and her passion for dance has grown since then. Over the course of her dance journey, she has participated in many competitions in US as week as in India. Sri Reshmi has taken part in the Guinness Book of World Records event of 2014 in Hyderabad. She has traveled to many places in India performing various dance performances. Besides performing, Sri Reshmi is also an active volunteer at SKAA and regularly assists Guru Swathi in teaching and guiding younger students at SiddhendraKuchipudi Art Academy.

Her parents, Mahesh Ogoti and Rukmini Ogoti are extremely proud of what Sri Reshmi has accomplished in Kuchipudi.

'I will remain forever indebted to you for teaching me this art form and making me beautiful, inside and out' said Sri Reshmi about her teacher.
The teacher ended the exciting evening by awarding Sri Reshmi with a certificate and plaque on her graduation.






News Posted: 20 July, 2016




---