TAMA-TANA conducts CPR workshop

TAMA and TANA Cares teams conducted an important CPR Training workshop at Sri Krishna Vilas, Cumming GA. This was a day long event with 2 sessions, one in the morning and another in the afternoon. 'CPR training is a very critical and important skill as it would help trained individuals to help when someone around us collapses due a cardiac arrest and there is a delay in emergency support reaching. An individual with CPR training in the vicinity would be able to save a life.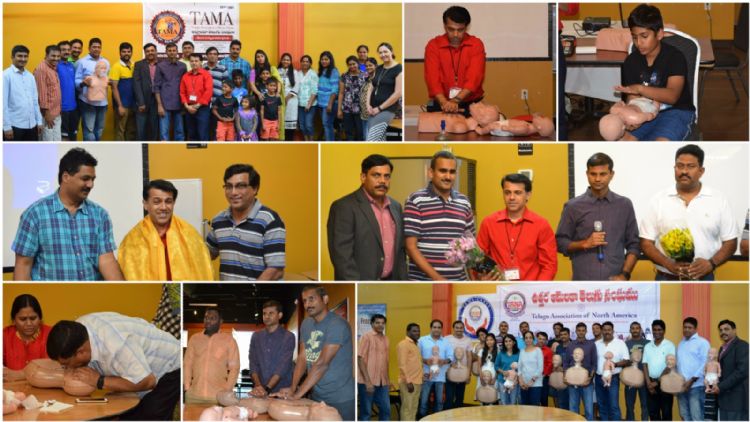 The training program started with a welcome note by TAMA Board Director, Subbarao Maddali who invited TAMA and TANA Cares teams on to the stage. TANA Southeast Regional Coordinator Anil Yalamanchili explained about TANA Cares programs and invited Sponsors Srinivas Nimmagadda of Vensai Foundation and Rahim Hussain of Trust Home Care, to the stage. TANA Cares team felicitated Srinivas Nimmagadda, who sponsored a complete set of the CPR training kit with shawl and presented a certificate of appreciation. This was followed by TAMA team led by Chairman Ram Maddi & President Venkat Meesala presenting a certificateof appreciation to sponsor Rahim Hussain, who is an experienced trainer and is certified by American Heart Association.

Rahim Hussain provided training to approximately 50 participants by playing AHA's CPR DVD and hands on practice with provided manikins. Main topics that were covered are making sure that need for CPR, compressions, breathing, AED operation, choking and Adults, kids, and infant specific details. It was a very interactive session with many questions being clarified by the instructor. The audience who participated in the event felt happy with the learning during this session and expressed their gratitude to TAMA and TANA Cares teams for hosting these types of sessions that are very helpful to the community at-large.

After concluding the second session, Upendra Narra from TANA Cares and TAMA President Venkat Meesala felicitated Rahim Hussain with a shawl. TAMA Board Secretary, Mahesh Pawar concluded the session with vote of thanks, thanking the sponsors Vensai Foundation and Trust Home Care for their generous support, Sri Krishna Vilas for providing the venue, snacks and tea, Volunteers from TAMA and TANA Cares and all the participants who attended the training session.




News Posted: 23 September, 2016

Be first to comment on this News / Article!




---