ATA DC Chapter Committed to the Community Service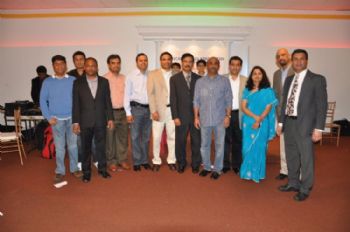 Northern Virginia: Washington DC Chapter of American Telugu Association (ATA) hosted Member Appreciation Event on March 5th, 2011 in Virginia. The event was organized to express gratitude to all members in the Washington DC metro area for their continued support to ATA and to outline ATA future plans in the area. The event was attended by large section of Telugu families living across Virginia, Washington D.C., Maryland, Baltimore and its surrounding areas. Dr. Rajender Jinna, president, Ram Mohan Konda, General Secretary, other senior members of ATA attended the event along with special invitees Mr.Lalit K Jha, Principal US Correspondent of Press Trust of India and Mr.Tejinder Singh, White House Correspondent of AHN Media Corp.

The evening started with a welcome note by Soumya Kondapalli, DC metro area Regional Coordinator. Soumya highlighted the purpose, objectives and success stories of ATA in the last two decades. She pointed to members and non-members the services done by ATA to the Telugu Community in North America and India. Soumya also talked about the different forums and conventions held by ATA since its inception. She urged non-members to join ATA by emphasizing the need for participation in a nation-wide organization that is capable of promoting Telugu culture and bringing the Telugu community together.

Anand Babu Gummadi of Maryland updated the members about the ATA assistance to the students who have fallen victims to the Tri-Valley University 'scam'. He thanked ATA's partner law firms for their legal assistance and the media for their coverage of the issue which prompted quick response from US immigration officials, Indian Ministry of Foreign Affairs and US Senators & Congressmen. Dr.Jinna President, ATA thanked the regional coordinators and members for organizing the event. Dr.Jinna stated that ATA is a vibrant organization as always with a commitment to provide community oriented services to the Telugu Community. Bhuvanesh Boojala and Rajesh Madireddy ATA trustees from the DC region thanked the members for their continued support. Media inquiries about ATA and its future service oriented activities were addressed by Dr.Jinna, Jayender Annam and Ram Mohan Konda.

The evening was dominated by brilliant entertainment performances by children of all ages. Lakshya, Rachana, Shreya, Sahithi, Sanjana, Samhita, Vivek and Chetan thrilled the attendees with dances on Bollywood and Tollywood music. Meghana and Shailaja performed Bharatnatyam, Medha played JS Bach composition on violin and Shreya sang a Tollywood song. The performances were supplemented by DJ Sunny. Children had the most fun in the event and inspired parents to join them. All attendees danced and sang well into the night and on the whole the event was well participated and enjoyed by all.

The event inspired new memberships, new interests and generous donations from majority of the attendees. Large section of attendees came forward to volunteer for future events. Enthralled attendees requested ATA to host 13th convention in Washington DC area. Vote of thanks was given by Virginia area Regional Coordinator, Manohar Enugu, who made special mention of the parents who worked hard to prepare their kids for the event and thanked all the volunteers for their support.

ATA (American Telugu Association) is an established service oriented non-profit organization serving Telugu community in North America for over 25 years. For more details about this event and future events please visit ATA website at http://www.ataworld.org.

12th ATA Convention & Youth Conference will be held during July 6th weekend at world famous Georgia World Congress Center in Atlanta, GA.




News Posted: 8 March, 2011

Be first to comment on this News / Article!




---