Meghana completes Kuchipudi Rangapravesam

Meghana Lakshmi Dantuluri, a 16 year old resident of Warren and a disciple of Guru Swathi Gundapuneedi mesmerized the audience at her Kuchipudi Rangapravesam (Indian Classical Dance Graduation) at Raritan Valley Community College in Branchburg, NJ. She will begin her junior year of high school in the fall at Watchung Hills Regional High School.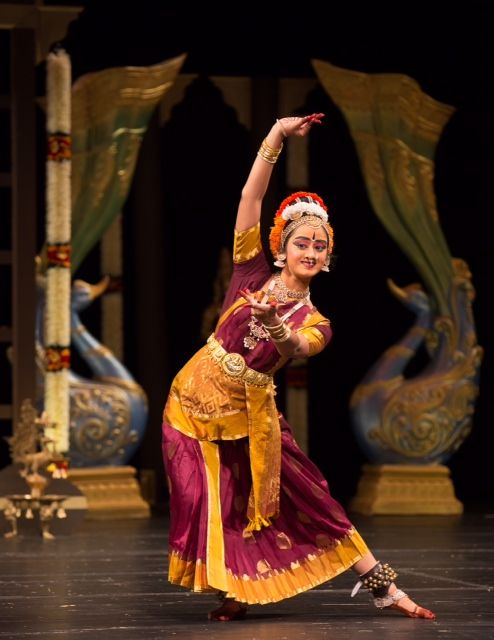 Meghana brought a distinct style of her own to the complicated yet pleasing dances with grace, confidence, poise and energy. She took the captivated audience (about 550 in strength) into her private journey of storytelling leaving everyone invigorated.

The young and beautiful artist set a graceful beginning to the dance recital with a prayer to the gods with propitiation to Lord Ganesha to remove all obstacles and for the success of the show. The recital comprised of 7 dances which involved changing of 7 different attractive costumes. The main item of the afternoon was Alokaye Sri Balakrisha, which was about 30 mins long. In this dance, Meghana, describing the beautiful life of Krishna as the embodiment of eternal bliss showcased her agility and stamina, executing and holding statuesque postures as well as the complex jathis and executing the intricate footwork patterns on the rim of a brass plate which drew high praise from the audience.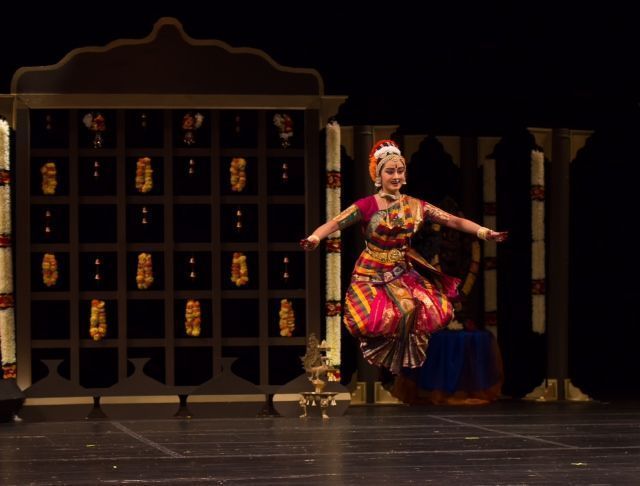 In another dance Rukmini Pravesam, Meghana's grace, sparkling eyes, enchanting smile and expressive face depicted the shyness, tenderness and beauty of the divine Rukmini.

SwathiGundapuneedi is the founder and artistic director of Siddhendra Kuchipudi Art Academy (SKAA). She has been teaching Kuchipudi for the last 20 years and is dedicated to readying a new generation of dancers who will continue practicing and spreading this art all over the world in its purest forms.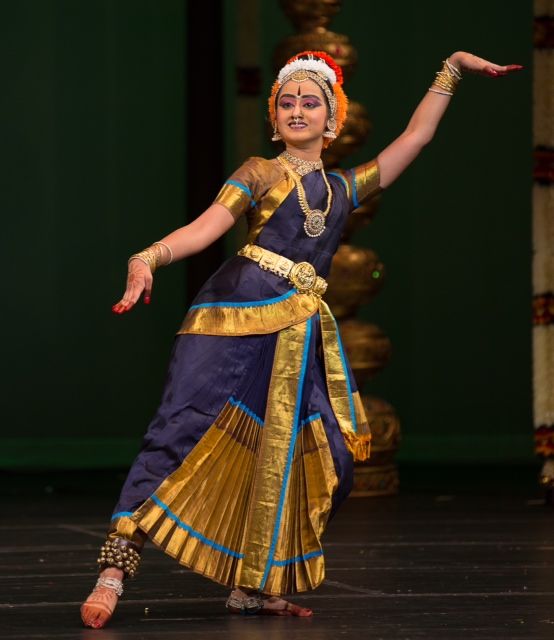 The 4-hour long Kuchipudi extravaganza was ably supported and accompanied by a live orchestra which comprised of leading singers and musicians from India led by a vocal singer DSV Sastry who has been a recipient of several prestigious awards in India.

Since starting at a young age, Meghana has come a long way, having given more than 50 performances across North American and India, including the Kuchipudi Dance convention in India that was recognized by the Guinness book of world records in 2012 and 2014.

Meghana is also an active volunteer dance teacher assistant, inspiring younger kids through the art of dance. In addition to dance, Meghana is learning Indian Classical music. has immense interest in volunteer work and helping the needy. She is actively involved in the Matheny Medical center, a hospital and educational facility for children and adults with medically complex developmental disabilities. She also assists in providing care for seniors at the Sunrise Senior assisted living center. She enjoys being with and helping young children and is currently tutoring kids every week at the Bridgewater library. Meghana and her parents have been donating money to the AkshayaPatra Foundation which is a non-profit organization in India that embraced the vision that 'No child in India shall be deprived of education because of hunger'. Her parents, Venu Raju and VijayaSarada Dantuluri are extremely proud of what Meghana has accomplished in Kuchipudi.

'I will remain forever indebted to you for teaching me this art form and making me beautiful, inside and out' said Meghana about her teacher.
The teacher ended the exciting evening by awarding Meghana with a certificate and plaque on her graduation.





News Posted: 21 August, 2015




---