DTC remembers Dr. Balamuralikrishna

Dallas Telugu Community gathered at Amaravathi Indian Restaurant in Irving, Texas on November 22, to pay a rich tribute to the legend Carnatic Musician Padma Vibhushan Dr. Mangalampalli Balamuralikrishna.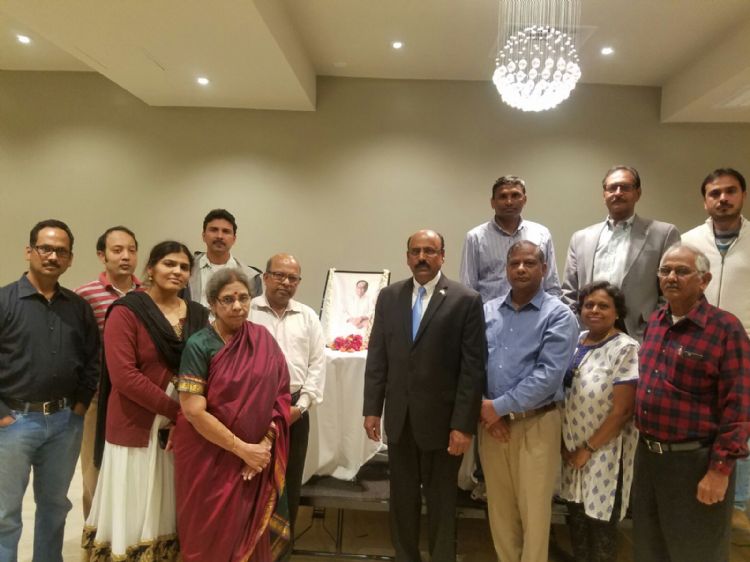 Dr. Prasad Thotakura, one of the closest admirers of Dr. Mangalampalli recalled the mesmerizing concert organized by TANA during his presidential term along with TANTEX on October 08, 2011 in Dallas. It was a houseful concert, lauded by one and all. He mentioned that Dr. Mangalampalli was moved by the hospitality and the honor bestowed on him and his team.

Subramanyam Jonnalagadda, TANTEX President stated that it is a great loss to the music world particularly to the Telugu community of Dallas since he was very close to the local community.

Rao Kalvala remembered that he knew him since 1990's from New Jersey concert. He revered Dr. Mangalampalli as simple humble person though he was a celebrity in Carnatic music.

Chandrahaas Maddukuri said that it is unimaginable to see a person with no formal education raised to such heights in the music world and his name and compositions will be remembered for ever by all.

Meenakshi Anipindi who was a close associate of Dr. Mangalampalli recollected that she knew him since her childhood days in Vijayawada. As a Carnatic singer, she met Dr. Mangalampalli quite often to seek his blessings and advice to perfect her in Carnatic music. She shared many memorable moments spent with Dr.Mangalampalli.

Syamala Rumala mentioned that she attended Dr. Mangalampalli concerts in Chennai when she was very young and since then she hooked to his music.

Santha & Viswanadham Puligandla family hosted Dr. Mangalampalli many times during his Dallas trips. As a music lover, Mrs. Santha shared many personal experiences with Dr. Mangalampalli. In her own words he was casual, jovial and down to earth. She felt that people like Dr. Mangalampalli won't be born again and his name and works will be everlasting in music world.

Dr. Prasad Thotakura, organizer of the homage meet thanked the community for attending, media for covering, management of Amaravathi restaurant for making needed arrangements on such a short notice. The community observed a moment of silence on Dr. Mangalampalli's demise, offered flowers, conveyed deepest sympathies to his family and prayed for his soul to be rest in peace.





News Posted: 23 November, 2016

Be first to comment on this News / Article!




---