Let's build AP Together, Babu invited NRIs

Dallas, Texas: Dallas Telugu Community hosted grand reception to Hon. CM Shri Nara Chandrababu Naidu on May 6th from 6-10 pm at Irving Convention Center. This event was hosted by APNRT, APJanmabhoomi , NRI TDP and supported by many community organizations.

Shri Nara Chandra Babu Naidu garu on his first trip to USA as the chief minister of the new AP state, addressed a packed crowd in excess of 5,000 people from all around the country in Irving Convention Center, Dallas, TX on the evening of May 6th. Even after two days of tight schedule and hectic meetings with prospective investors and business leaders of Bay area and Dallas, an indefatigable Mr. Naidu entered the convention hall amidst huge applause and chants of 'Jai Babu' from an expectant crowd. APNRT Global Adviser of IT,, Mr. Satish Manduva introduced Shri Nara Chandra Babu Naidu Garu to the audience as a visionary CM, Role Model, Inspirational Leader, chief architect of Navya Andhra Pradesh and welcomed him to stage.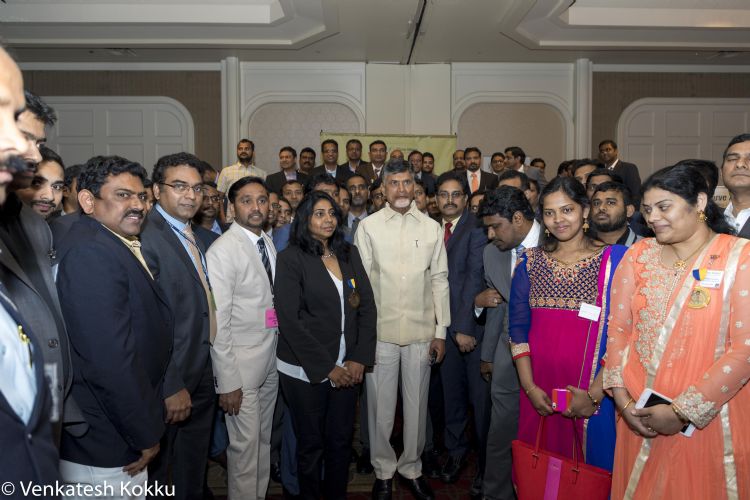 For the next 45 minutes Mr. Naidu spoke passionately at length on a range of topics, like a teacher, a leader, an eternal student and at times as a person with folded hands requesting the support and help from the NRIs to rebuild their home state. He reminded the audience about his earlier role in the overall development of the erstwhile AP state, how his vision and successful execution of the same has put the state in the global technology services map, how his educational policies paved way for a generation of young people from different rungs of the society to be successful like them. He said that he is extremely proud of all the progress and tremendous achievements of the Telugu community and reminded them that its time to repay back and help him in the development of the new state.

He explained the difficult circumstances in the state and the challenges it faced after bifurcation and the tremendous progress and development in the state under the TDP government in the last three years. Fiber grid connectivity of the state by an innovative reuse of the existing power lines, interlinking of the Godavari and Krishna rivers, pensions, insurances, scholarship schemes for needy, un-interrupted power supply at a reasonable price etc. were some of the things mentioned. Maintaining an optimum balance between the welfare schemes needed for the poor and the long term infrastructure growth and wealth creation are his main goals, opined Mr. Naidu. The fact that the farmers did not hesitate to put in his hands about 40 thousand crores of resources as a part of the land pooling scheme for the state capital, shows how much faith they had in him and he is extremely honored and indebted for their gratitude, an emotional CBN said.

The unique demographic dividend with a double digit growth opportunity should make India in general and AP in particular an automatic choice for investors and businesses alike, felt CBN and said that his goal is to put AP as one of the top three states of the country by 2022 and number one by the year 2029. He laid out his plan to build Amaravati as a world class city and a knowledge hub from the current greenfield location and reminded the audience about the transformation of a brownfield location into Cyberabad earlier under his stewardship. He extolled the intelligence and hardworking nature of the Telugu NRIs and goaded them to take a leaf out of the Jewish diaspora's progress book to become successful entrepreneurs, take part in the local governing bodies and give back to their motherland. He was elated with the recent advancement of women in various fields and encouraged them to become successful entrepreneurs too.

Mr. Naidu laid out his vision for the state by providing world class infrastructure that can transform it into a knowledge, research and manufacturing hub, provide power at an affordable price by using renewable solar energy and reduce transmission losses using innovative power storage grids, convert most of the cars to electrical vehicles, make smart villages and smart cities, use technology to eradicate poverty etc. 'I have a grand vision. I am working hard, every day and every hour for realizing it. I am learning new things every minute. I need your blessings. I need your help and together we will make our state great again' concluded Mr. Naidu to a standing ovation from the crowd.

Dr. Ravikumar Vemuru, APNRT CEO explained how APNRT is helping Non Resident Telugu people by extending needed services. Jayaram Komati explained how AP janmabhoomi is helping digital schools. Also 'Indian idol' finalist PVNS Rohit and playback singer Anjana Sowmya, enthralled the audience with songs of yester years.
Teluguthalli statue & Kondapalli Dolls exhibit impressed many attendees.

Dr. Ravikumar Vemuru said 'This is great opportunity to meet our Hon. CM Chandrababu Naidu and be part of building Amaravathi, proud capital of Andhra Pradesh. We are encouraging all NRIs to adopt villages and develop Navyandhra Pradesh. We have government matching grants for any projects in villages. These projects include building schools, LED lights, water plants etc. APNRT is also providing many services to NRTs, please visit and register as member at http://www.apnrt.com'

Earlier in the evening, Hon. CM met with 2 big firms DELL, Bell Helicopter representatives to start their operations in Andhra Pradesh. And got commitment from 28 ITServe member companies to lease office space and provide employment.

Hosting this big event wouldn't have been possible without dedication of 150+ volunteers from Texas. These volunteers include but not limited to Suresh Manduva(APNRT Southwest Regional Administrator), Krishna Korada(APNRT Coordinator), Sateesh Kommana(APNRT Coordinator), Ajay Govada(APNRT Coordinator), Samba Dodda(APNRT Coordinator), Amar Anne(APNRT Coordinator), Sugan Chagarlamudi(APNRT Coordinator), Madhavi Medi(APNRT Regional Administrator), Srikanth Polavarapu (AP Janmabhoomi Coordinator), Kishore Chalasani(NRI-TDP Coordinator), Dinesh Tripuraneni(NRI-TDP Coordinator), Ratna Prasad Gummadi(NRI-TDP Coordinator), Sudhakar Pennam, Ramakrishna Marneni, Raja Maganti, Vinod Uppu, Janardhan Yenigapati, Sudhakar Kancharla, KC Chekuri, Srinivas Kommineni, Sesharao Boddu, Subhash Neelakanti, Subbarao Ponnuru, Rajesh Adusumilli, Suresh Kaja, Chandrahas Maddukuri, Lakshmi Paleti, Rajesh Chilukuri, Ramakrishna Nimmagadda, Veena Yalamanchili, Paramesh Devineni, Suresh Pathipati, Srikanth Puvvadi, Chaitanya Kancharla and many other active volunteers. Thanks to media partners TV5, TV9, Funasia, Eknazar & Desiplaza Manohar Nimmagadda. Classical and fusion dance performances are choreographed by Dr. Sudha Kalvagunta, Hema Chavali, Rupa Bandam Yogitha Manduva & Swapna Gudimella. Thanks to those 70 kids participated in these dance performances.

Advisory Committee for the event consists of representatives from various local and national organizations - Prasad Thotakura, Dr. Raghavendra Prasad, Dr. Navneetha Krishna Gorrepati, Dr. Ramanareddy Guduru, Ram Yalamanchili, Krishnareddy Uppalapati, Dr. Srinivas Potluri, Dr. Chandra Pemmasani, Murali Vennam, Sudhakar Pennam, Neel Gonuguntla, Sandhyareddy Gavva, Mahender Ganaparam, Dr. Raju Kosuri, Srinivas Koneru, Upender Telugu, Arvind Reddy Muppidi, Satish Reddy, Dr. Srinivas Reddy Alla, Vikram Jangam, Ramanareddy Kristapati, RK Panditi , Bhaskar Rayavaram & Sridhar Kodela.

APNRT is a government of Andhra Pradesh Initiative to unite Telugu NRI's and provide them right platform to seek help and offer help to sunrise state. APNRT provides many services to NRTs including Tirupati Temple L2 passes, OCI/PAN/Adhar support, lost documents, investment advices, ICICI/YES Bank preferred money transfer rates, Parental health insurance and many more.




News Posted: 16 May, 2017

Be first to comment on this News / Article!




---